The Website Production Crew
Jeff McQueen - The "Jack-of-all-Trades" Guy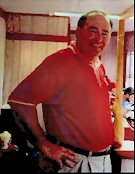 Greetings, I'm Jeff McQueen, the "Voice of the Hill". I started my football career on "The Hill", playing for the Loudon Quarterback Club Indians. Can't recall our record, but I do remember we beat Claxton for the Championship! Our coaches were Coach Harrison Henry and Coach Homer Stamey. I still enjoy seeing these early mentors out in the community or at ball games, the talk always centers around football. The bonds that were forged back in those early days would reap many benefits in the future, as this group stayed together, worked hard, and persevered. The best was yet to come. On to high school, I played football for the Loudon Redskins in the mid-seventies, class of 1975. After a successful freshman campaign, I joined the varsity squad in the fall of 1972 as a sophomore. Although the Redskins would only muster a 1-8 record, I lettered and became a midseason starter at defensive corner back. Things were much better my junior year, as the 'Skins improved to 0.500, with a 5-5 season record. The torch was passed… 16 seniors and I, embarked on an odyssey that resulted in the only Undefeated, Untied, State Championship Team in Redskin history! (To date) The dream season included a 42-0 shellacking of Lenoir City on the way to a perfect 12-0 finish. To show you just how special that is, in 80 years of Redskin Football, there have been just five undefeated teams (1939, 1940, 1941, 1962, & 1974). We had plenty of talented underclassmen, as the "Big Red" reloaded and repeated as State Champions the next year, 1975, going 11-1-0. The only black mark was a 14-17 loss against Maryville in game eight. No one can talk about the history of Loudon Football with out mentioning Head Coach Bert "Chig" Ratledge. Coach Ratledge was at the helm for 30 years, he amassed a record of 173-127-9, winning three State Championships (1969, 1974, & 1975) in the process. A note of interest, the 1969 team had a record of 11-0-1; the lone tie was against Kingston.
Leaving LHS as a three year letterman, three year starter, and with a State Championship ring; I was ready to take on new challenges. Off to college, I earned an associate degree in Mechanical Engineering from State Tech, and started a career in the nuclear power industry. I now work for the TVA, fossil power group.
Married to Kathy (Roberts) McQueen (LHS class of 1978), we have four children: Joshua, Jimmy, Kristin, and Jefferson. Josh is a senior at LHS, where he plays wide receiver and strong safety on the varsity football team; Jimmy is a junior at LHS - he plays on the offensive and defensive lines for the varsity football team; Kristin is a rising freshman at LHS where she earned a position on the varsity cheerleading squad; and Jefferson is in the fifth grade at LES and plays for the Loudon Quarterback Club Mustangs football team.
I've been involved with the Loudon Quarterback Club for the last nine years. Aka "The Voice of the Hill", I've announced the home games for the last eight years. I was asked by then LQC President Jack McCollister to develop a web site for all the football and cheerleading teams and to get news paper coverage of our games. After a failed attempt to launch a web site, someone told me that Rex Mingie, from down at the barber shop, had called wanting information about the LQC teams to add to his Redskin web site. At my next haircut, I asked Rex to include the articles that I was now writing for the News-Herald on his web site. That first season, Jamie Graves joined up as the photographer. Now we had complete coverage: rosters, schedules, scores, stats, game articles, and pictures. And for the last three seasons, this team: Rex Mingie - web master/publisher/editor, Jammie Graves - photographer, and myself, Jeff McQueen - contributing editor, have strived to provide the best Loudon Quarterback Club and Loudon Redskin football coverage that we can. Now it will just be Jammie and I. Hope you enjoy the site, loudonfootball.com.
Jammie Graves - The Picture Man/Webmaster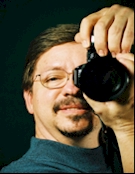 I'm Jammie Graves,
I am a graduate of Sullivan Central High School in Blountville, Tennessee where I played basketball and baseball. I attended East Tennessee State University and received my Master's Degree in Engineering Technology. Part of my background is in graphic arts and computer integration.
I'm married to Kathy (Bright) Graves, who graduated from Loudon High. We have two children Liddia and Josh. Both are now in college.
I got started with the website after discovering there was no one covering the Quarterback Club Football games. My son was playing for the Mustangs and I was taking pictures of him. Jeff McQueen then made arrangements for me to photograph the Quarterback Club, Loudon High School, the newspaper, and then to become a regular contributor to the Loudon Redskins website.
Thanks to all our fans that have made us a top website in Tennessee for high school and quarterback club football. SEE YOU AT THE GAMES!! GO REDSKINS!!
In 2007 I won a Tennessee State Press Award for sports photography featuring one of my Quarterback Club images. See this image and contact me here: